Plasterboard - The

underestimated waste type

Plasterboard - what is it used for?
Plasterboard is used to make interior walls and ceilings and is usually large panels which are made of calcium sulfate dihydrate (gypsum) pressed between a facer and a backer. It was made as a faster alternative to traditional lath and plaster. It is also known as a 'Drywall' construction.
Plasterboard meets many building regulations for fire protection, acoustic insulation and thermal efficiency so it is a popular choice for builders. In areas of high humidity, it can help to control condensation and potential damage.
About plasterboard
Plasterboard is also known as drywall, gypsum board, wall panels or wallboard. Commercial brands for plasterboard in the UK include GTEC and Gyproc.
The main use of plasterboard is for building partitions walls or ceilings in any structure, ranging from schools and hospitals to shops and household properties. Newer, more advanced plasterboards can also be used for external sheathing.
There are many benefits of using plasterboard. Firstly, it provides a smooth finish to decorate. Secondly, it is lightweight and easy to install.
Gypsum vs Drywall
Drywall is a product used as finishing for interiors of buildings. Drywall is also known as gypsum board or plasterboard. Gypsum plaster is the material used to make drywall with fiberglass matting covering on the sides of the board. Fire-resistant materials may be added to the gypsum plaster to make it resistant to fire and heat. The sheets of drywall usually come in panels measuring 4x8ft.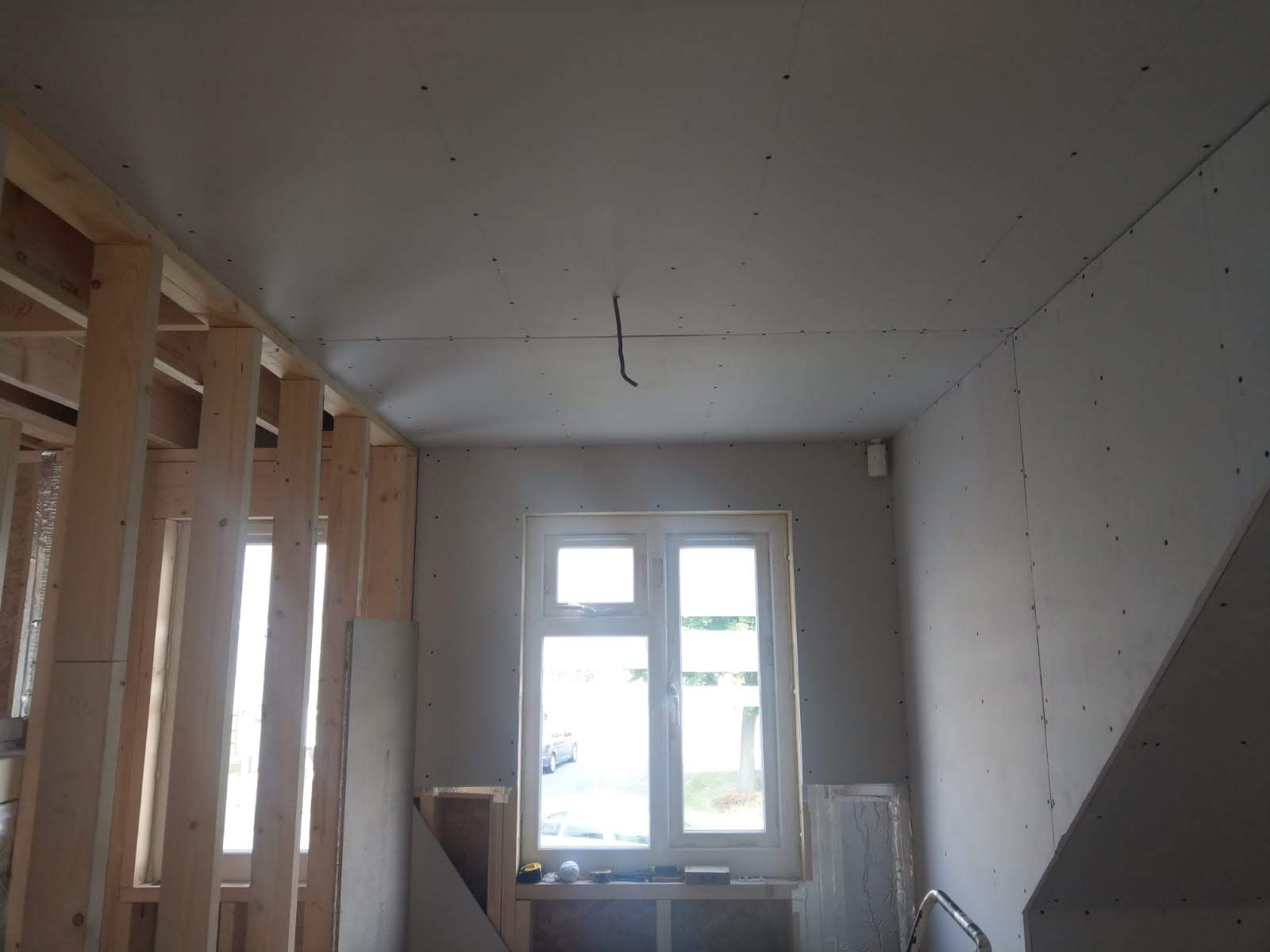 Drywall has become the popular choice for interior wall finishing in new homes and those having a facelift. The core inner material of drywall is gypsum plaster, which is the core inner material and paper liner that is wrapped around the gypsum plaster.
Gypsum is a naturally occurring mineral, also known as hydrated calcium sulphate (classified as non-hazardous). Gypsum is mainly used as a raw material for a number of different products including drywall. It is naturally fire resistant, so is especially popular in the construction industry. Within the mineral industry, gypsum takes on several names, like selenite. It is colorless and transparent with a glowing lustre. Other gypsum varieties include satin spar, which has a close resemblance to the material, and fine grained crystals called alabaster. Gypsum forms some of the largest crystals known. When gypsum is heated to temperatures of about 150 degrees Celsius, it loses a great amount of its water which then turns into the building material known as Plaster of Paris. This Plaster of Paris was widely used as a building material until it was replaced with another gypsum plaster product, we know as drywall.
How to dispose of your unwanted plasterboard
The simplest way is to tell us! If you have a small amount of plasterboard, we will ask for this to be bagged up and placed on top of the skip - making sure the skip still maintains its level load. Once the skip is back at our yard and ready to sort, we can then clearly see the plasterboard is separated from the rest of the skip waste. If you have a lot of plasterboard and it is not possible for it to be bagged then you may have to order a separate 'plasterboard only' skip.
How do we, at Canvey Skip Hire, dispose of plasterboard?
On April 1st 2009, the 10% guidance (allowing construction waste that contained small amounts of gypsum - known as the 10% rule) was removed, governing the disposal of gypsum.
Under the new regulations, waste containing gypsum can no longer be mixed with the household waste at a standard landfill site. The change in regulation applies to waste containing identifiable gypsum-based materials, such as plasterboard, thermal laminates, glass reinforced gypsum (GRG), plasters, cove and ceiling tiles all things found in most homes and a good percentage of things changed when house renovations are done.
If a container of gypsum is sent to landfill, it must now be deposited in a separate Monocell. There are currently very few Monocells in the UK designed to take sulphate wastes like gypsum, and so disposal has led to higher costs for the waste industry.
Plasterboard is 100% recyclable which means nil waste should go to landfill.
Our plasterboard is taken by a specialist company called 'Ahern Waste Management & Recycling Services' who deal in plasterboard recycling so that the waste doesn't get taken to landfill.
If you have some plasterboard to dispose of, you should consider please contact us and let us know how much plasterboard you have. At Canvey Skip Hire we provide fast efficient skip hire in Benfleet and have a fully licensed waste transfer station at our Southend site.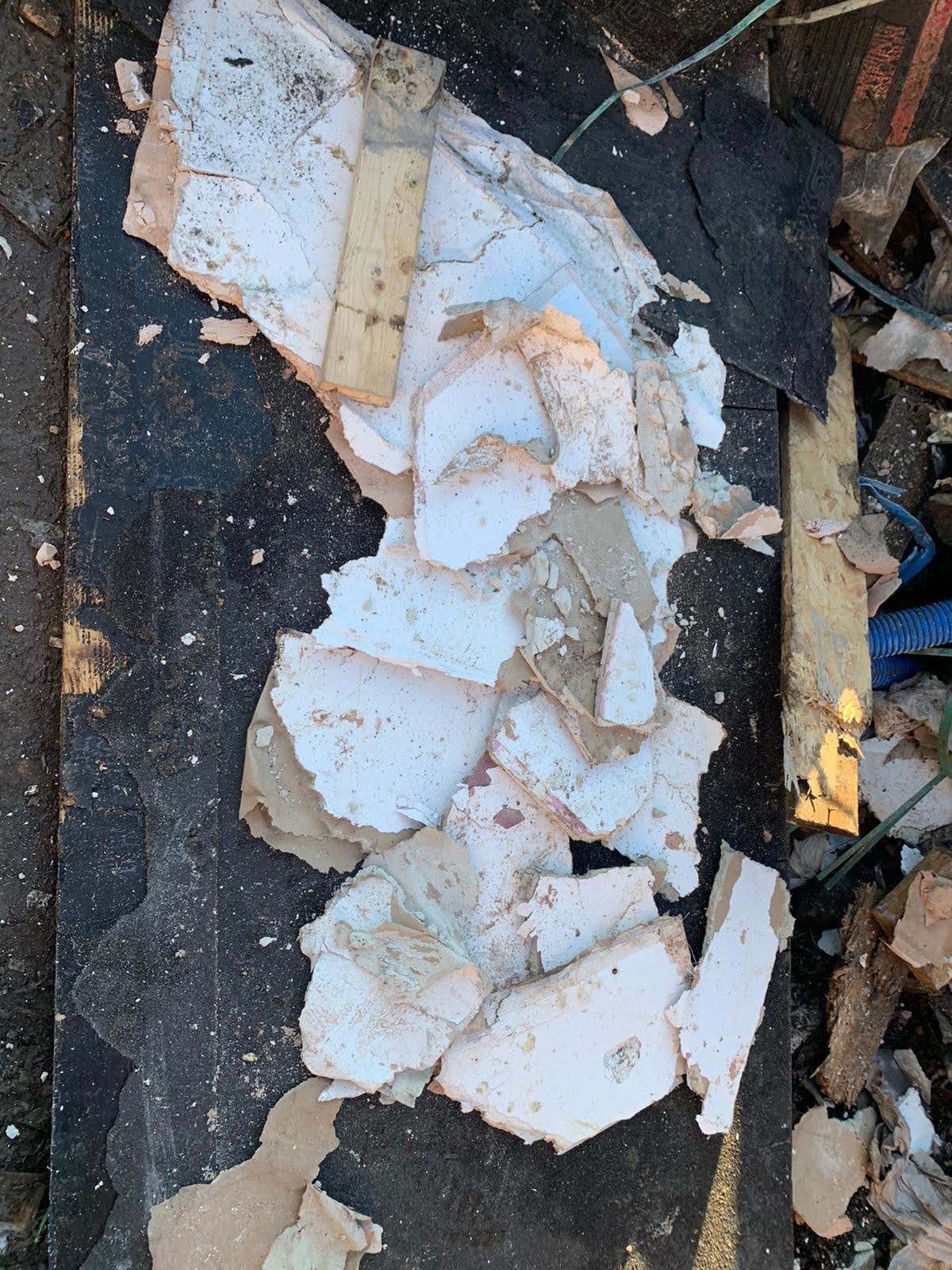 Waste Management & Recycling Services
Oliver Close West, Thurrock, Essex RM20 3EE
Tel: 01708 865599
sales@ahern.co.uk